The Abstract Is A Place I Call Home (2023) is the first solo show of South African born multidisciplinary artist Nontokozo Tshabalala. Born and raised in Standerton, South Africa, she uses her work as an avenue for posing deeper questions about her identity and the Black experience wherever she goes.
Nontokozo Tshabalala also Future_of_Brown (F.O.B) is a multidisciplinary artist, poet, Afrofuturist, speaker and designer currently based in Malmö.
"The Abstract Is A Place I Call Home" began as a response to a remark I once received from a director of an influential art institution about how my work is "political in a nice way" and that I needed to be "more angry". Well, I refuse. I want to be myself and respond to that which I am called to give. This work then embodies resistance, rest and play which are an important part of my journey as an artist exploring freedom as a concept.

Nontokozo Tshabalala
Vernissage at Mitt Möllan
Thursday 23 November 2023, kl. 17:30 – 19:30
18:00 Opening speech
Shortly followed by a performance called 'iNkululeko the performance'. Sound design by @samar_jabri
The work will be exhibited 22-25 November at Mitt Möllan, Claesgatan 8 in Malmö.
Website: thatsnonto.myportfolio.com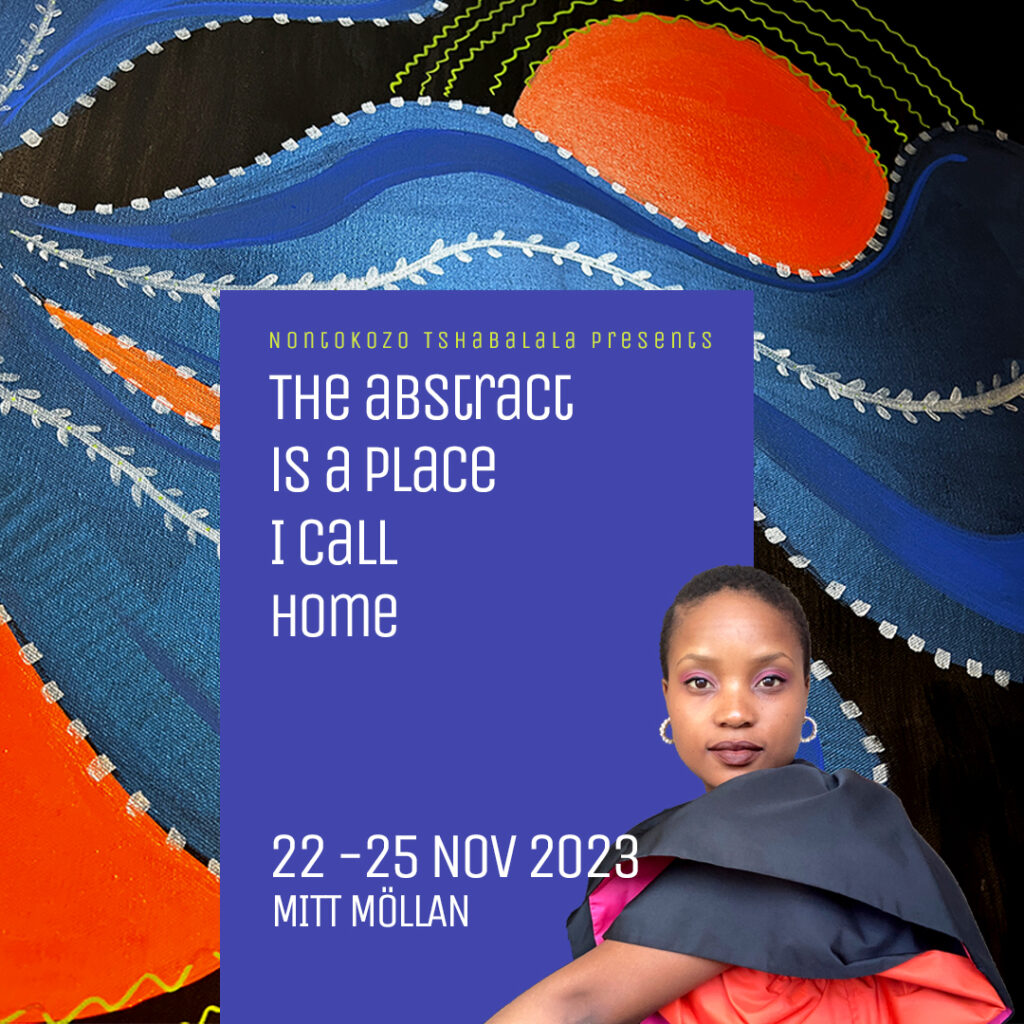 More about the artist
She has recently been announced as one of the winners of the Mail & Guardian Top 200 Young South Africans. The list aims to recognize and reward youth who have created resilient, entrepreneurial and robust solutions, Actively shaping South Africa and playing a pivotal role in its future.
Within her vast practice, she's also co-curated her first show called Neither Here Nor There (2020) which showed at Konsthall Bla Stallet and done work for Facebook Africa and The Africa Centre (London) and Future Brown Space (Sweden). Her work has been shown at The Göteborg International Biennial for Contemporary Art (GIBCA) Extended, Malmö Konsthall, and The National Museum of World Culture (Gothenburg) and Röda Sten Konsthall (Gothenburg).
Inspired by her nephew, Siyamthanda (Ncufi), she writes and creates from a place of curiosity and instinct often using colour, collage, song and poetry to express her thoughts. Tshabalala is the co-founder emeritus of Mam'Gobozi Design Factory, a design studio celebrating the Afrikan identity through creativity.